I knew the fabric used on the strap was starting to fray from the edge binding and something needed to be done. Either buy a new strap, which is available through Mission Workshop for 50€ or do one myself and take the opportunity to upgrade to a Cobra Buckle (this upgrade is an extra 65€ from Mission Workshop).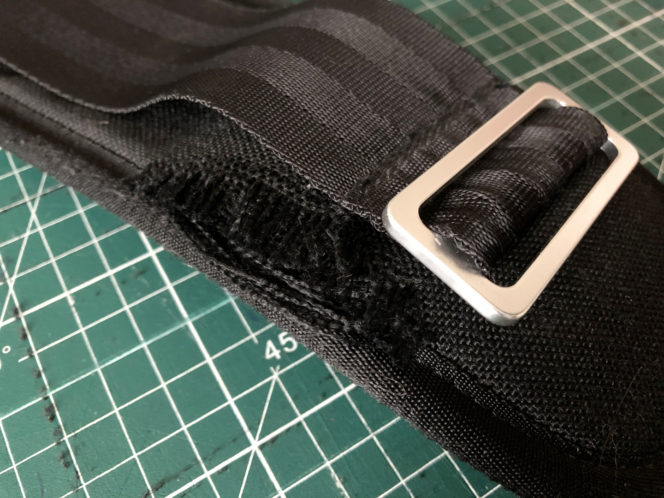 I bought a second-hand Mission Workshop Shed Messenger bag for 75€. I know how good are these bags as I already own a Sanction backpack and sold quite a bunch of them when I worked for Bicyclestore.fr.
THE BAG
I never really liked messenger bags therefore never bought one. Except a Freitag F17 Joe I got as a gift but never really used it. Sold it. But as I also sold my T-Level Infinity Rolltop, I need another bag for groceries. The Shed is a 35L Messenger bag, it's the largest messenger bag from MW. Its dimensions are 51x30x15cm and can be opened/closed the regular way or through a rolltop system. The fabric is some Cordura-like 1000d Nylon with some PVC tarp on the inside for waterproofness. Total weight is 1.6kg.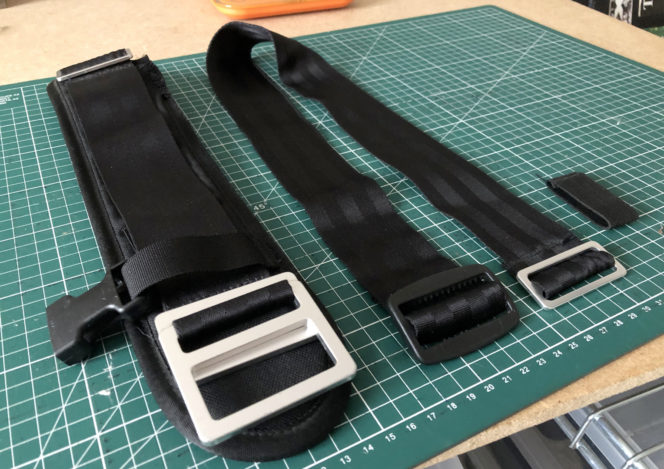 THE STRAP
As they built the bag to be used on both shoulders, the strap is detachable. That's a great idea and that's the only reason I could imagine making a spare one. The aluminium hardware is nice, the plastic one is from Duraflex. On the scale it is 175g. The padded section is 41x8cm, the security-webbing is around 80cm. There is a triglide at the end of it to manage the extra length.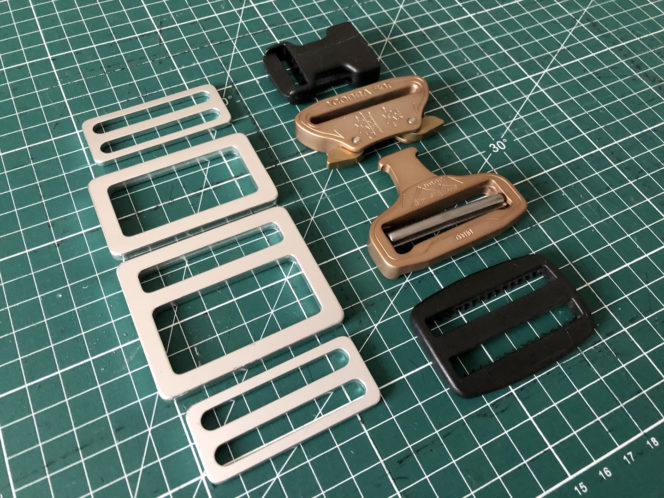 THE NEW STRAP
My idea is to make a full new strap, using roughly the same dimensions as the MW strap. Rather than using the aluminium adjustable hardware, I'll use a Cobra buckle which is heavier with 75gr but I want to have this "full open" option and let's say it, it's stylish. I'll use the rest of the hardware, especially the little square to re-attached the strap to the bag. Also, the free the full-length of the webbing, I add a 50mm D-ring on the Cobra buckle ladder lock.
All is cut, time to choose the fabric. I'll go with VX21 X-pac. As I only have my Juki DDL900 a-S, I only used a strong mesh, make all the construction, and fit some foam last. The end result is 180gr so only 5 more grams than the original.